Nature Republic Good Skin Tea Tree Ampoule

This ampoule has anti-fungal properties and natural antibiotics which facilitate the healing of breakouts. It prevents the growth of bacteria and minimizes pores. The anti-inflammatory properties of tea tree is perfect for all skin types who want a little peace for their skin, but best for those who are constantly dealing with redness and inflammations.

Melaleuca Alternifolia (Tea Tree) Leaf Extract - An anti-inflammatory ingredient that help to soothes skin redness and inflammations.

Centella Asiatica Extract - A calming ingredient that helps maintain the skin's natural oil-water balance and helps prevent future breakouts.

Tea tree ampoule is not harsh and doesn't cause excessive dryness, peeling of the skin or any redness. It will leave you with glowing, flawless skin. Tea Tree Ampoule has acne-fighting benefits with tea tree, centella asiatica, and aloe leaf extract to kill the acne-causing bacteria and minimizes the pore size. Tea tree ampoule reduces inflammation, helping with acne, eczema and other inflammatory skin issues. Tea Tree ampoule targets rough skin texture, dry skin and blemishes. It is an anti-inflammatory, it also encourages collagen production to reduce the appearance of wrinkles and fine lines.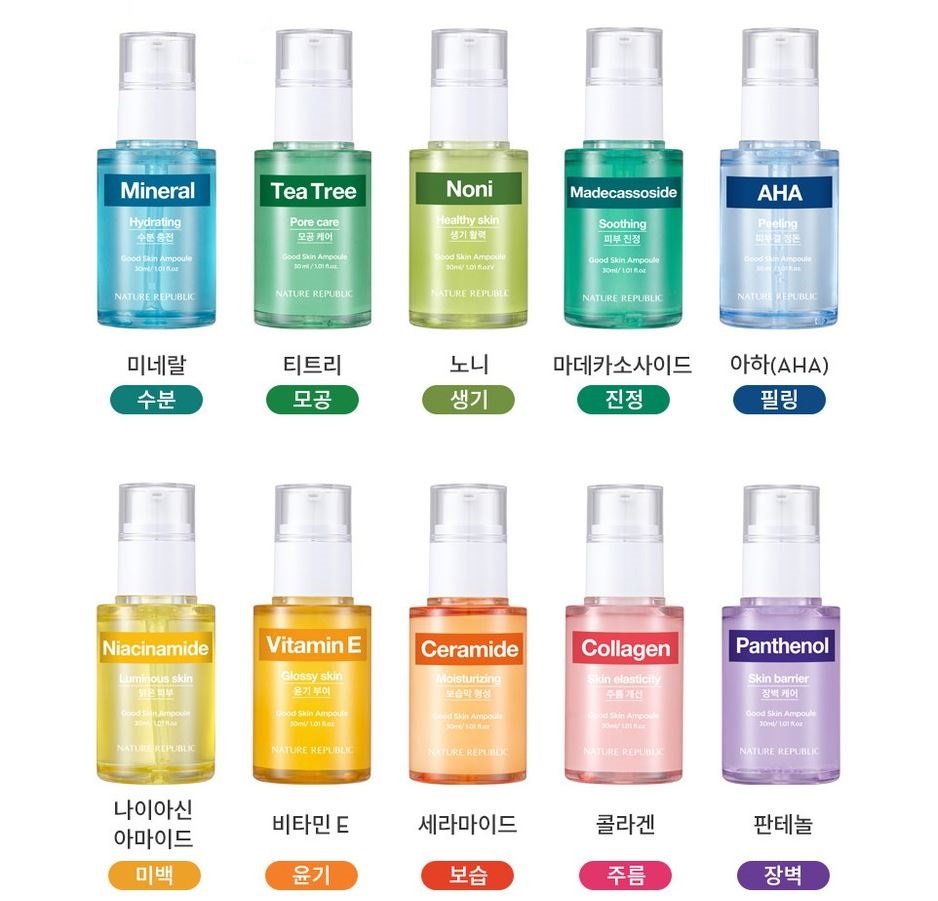 How To Use

Step - 1: Cleanse
Cleanse Before you apply ampoule, best applied after toner.
Step - 2: Apply
Apply 2 pumps or 3-4 drops of ampoule into your palm or a cotton pad to gently massage or rub and lightly press your palms onto your skin.
Step - 3: Absorb
You've waited few minutes for best absorption, you can also add a few drops to moisturizers and foundations.

Ingredients.

Water, Butylene Glycol, Glycerin, Niacinamide, 1,2-Hexanediol, Melaleuca Alternifolia (Tea Tree) Leaf Extract, Caprylyl Glycol, Caprylyl/Capryl Glucoside, Benzyl Glycol, Hydroxyethylcellulose, Carbomer, Arginine, Panthenol, Trehalose, Allantoin, Aloe Barbadensis Leaf Extract, Melaleuca Alternifolia (Tea Tree) Leaf Oil, Adenosine, Ethylhexylglycerin, Persea Gratissima (Avocado) Oil, Argania Spinosa Kernel Oil, Raspberry Ketone, Maltodextrin, Mentha Piperita (Peppermint) Extract, Chamomilla Recutita (Matricaria) Flower Extract, Centella Asiatica Extract, Eucalyptus Globulus Leaf Extract.

A natural anti-bacterial, tea tree ampoule combats acne-causing bacteria has a gel-like consistency and cools down both inflamed spots and redness without irritating or drying the skin. This ampoule is powerful calming ingredients such as tea tree, centella asiatica, and aloe leaf extract, while hydrating the deepest skin layers. It also contains niacinamide, which not only helps brighten your skin, but also helps fight acne scars.