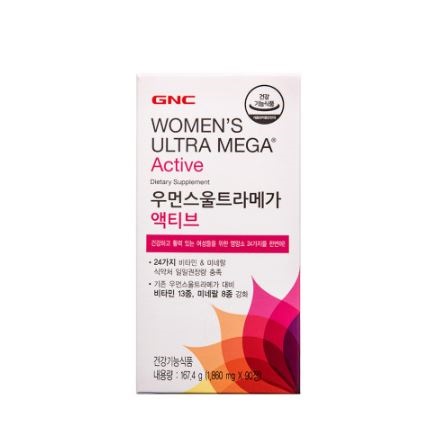 Clinically Studied Multivitamin - Antioxidants - Immune Support - Beauty

More antioxidant power than ever and over 30 clinically studied ingredients in every formula - all in smaller, easier-to-swallow pills.

Women's Health
Contains a clinically studied multivitamin formula shown to work better than a basic multivitamin. Helps to support bone health.*
Antioxidants
Packed with antioxidants for cell protection and stress defense.*
Immune Support
Supports immune health with 30% more absorption of key immune and stress defense nutrients.
Beauty includes biotin to support healthy hair, skin and nails, as well as ingredients to support skin hydration and elasticity.*


Not all multivitamins are created equal. When it comes to something as important as your health, you want a high quality multivitamin. Not only is every GNC Mega Men and Womens Ultra Mega multivitamin complex created with the vitamins and minerals you need to live well, theyre also clinically proven to make you feel better.
Heres four more reasons to choose GNC Mega Men and Womens Ultra Mega multivitamins.







Cautions

- Handle with caution as packaging edges are sharp.
- Consume immediately after opening.
- Check the ingredient list for potential allergens.
- Store in a cool dry place away from direct sunlight.


Exchanges/returns are not accepted for the reasons above.
As a dietary supplement, take two caplets daily with food.

†In a randomized, double-blind, placebo-controlled study of 112 healthy volunteers, subjects taking the GNC vitamin and mineral blends for six weeks experienced significant improvements in serum levels of certain key nutrients compared to a placebo and a basic multivitamin formula based upon multivariate statistical analyses of a group of B vitamins (thiamin, niacin, riboflavin, pantothenic acid, biotin, folic acid and vitamins B-6 and B-12) and key antioxidants and carotenoids (a group of beta-carotene, alpha-tocopherol, selenium, lutein and lycopene). Statistically significant improvements in SF-36 Vitality and Mental Health scores were also observed compared to placebo.

Warnings
Cancer and Reproductive Harm – www.P65Warnings.ca.gov. Consult your physician prior to using this product if you are pregnant, nursing, taking medication, or have a medical condition. Discontinue use two weeks prior to surgery. Inform your physician of this product's biotin content before any lab test. Niacin may cause a temporary flushing reaction.
Storage
STORE IN A COOL, DRY PLACE.
Distributed by:
General Nutrition Corporation
Pittsburgh, PA 15222
INGREDIENT AMOUNTS
Serving Size 2 Caplet(s)
Servings Per Container 45

Amount Per Serving


% DV

Vitamin A (50% as beta-Carotene & 50% Retinyl Acetate)
5000 IU

556%
Vitamin C (as Ascorbic Acid & Calcium Ascorbate)
200 mg

333%
Vitamin D (as Cholecalciferol D-3)
1600 IU

400%
Vitamin K (as phytonadione)
80 mcg

100%
Thiamin (Vitamin B-1)(as Thiamin Hydrochloride)
50 mg

3333%
Riboflavin (Vitamin B-2)
50 mg

2941%
Vitamin B-6 (as pyridoxine hydrochloride)
50 mg

2500%
Folic Acid
400 mcg

100%
Vitamin B-12 (as Cyanocobalamin)
50 mcg

833%
Biotin
300 mcg

100%
Iron (as Ferrous Sulfate)
18 mg

100%
Iodine (as Potassium Iodide)
150 mcg

100%
Magnesium (as Magnesium Oxide)
50 mg

12%
Zinc (as Zinc Oxide)
15 mg

100%
Selenium (as L-Selenomethionine)
200 mcg

286%
Copper (as Copper Sulfate)
2 mg

100%
Manganese (as Manganese Sulfate)
2 mg

100%
Chromium (as Chromium Chloride)
120 mcg

100%
Molybdenum (as Sodium Molybdate)
75 mcg

100%

vitamin E (as Natural d-alpha tocopherol Acetate)
30 IU

**
Niacin (as Niacinamide & Niacin)
50 mg

**
Pantothenic Acid (as Calcium d-Pantothenate)
50 mg

**
Calcium (as Calcium Carbonate & Calcium Ascorbate)
500 mg

**
Super Antioxidant Blend
0

**
alpha-Lipoic Acid
25 mg

**
Lutemax® 2020 Lutein
2 mg

**
Cranberry Fruit Concentrate

**
Boron (as Hydrolyzed Protein Chelate)

**
Tin (as Stannous Chloride)

**
Vanadium (as vanadyl sulfate)

**
Nickel (as Nickel Sulfate)

**
Lycopene
1 mg

**
Turmeric Root Extract (CurcuWIN™)(Curcuma longa)(Standardized to Curcuminoids)
500 mcg

**
Zeaxanthin (as Zeaxanthin Isomers)
400 mcg

**
Astaxanthin (from Haematococcus pluvialis)
50 mcg

**
beta-Cryptoxanthin
10 mcg

**
Fruit & Vegetable Blend
15 mg

**
Organic Bananas

**
Organic Beet

**
Organic Raspberry

**
Beauty Blend
0

**
Green Tea Leaf Extract (Camellia sinensis)
14 mg

**
Silica (as Silicon Dioxide)
4 mg

**
Hyaluronic Acid (as Sodium Hyaluronate)
1 mg

**
Grape Seed Extract (Vitis vinifera)
1 mg

**
Brain Health Blend
0

**
Choline (as Choline Bitartrate)
10 mg

**
Inositol
10 mg

**
Boron (as Sodium Borate)
2 mg

**
GABA (gamma-Aminobutyric Acid)
1 mg

**
Vanadium (as Sodium Metavanadate)
10 mcg

**

** Daily Value (DV) not established.


OTHER INGREDIENTS

Cellulose, Stearic Acid Vegetable Source, Magnesium Stearate Vegetable Source, Titanium Dioxide (Natural Mineral Whitener), Natural Vanilla Mint Flavor, Talc, Chlorophyll, Stevia Leaf Extract Contains: Fish and Soybeans